September 11th, 2013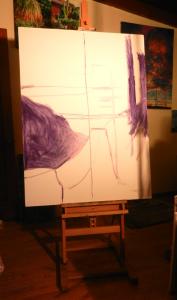 I invite you to look over my shoulder as I attempt to bring to life in oil paint a sunset vista of the Glendale, California skyline.

The clock is ticking. In a little over eight weeks I need six to ten new paintings for a three-artist show at the Fremont Gallery in South Pasadena. Theme—the radiant light of Los Angles.

A few weeks ago I happened on Adams Hill in Glendale—a long straight avenue diving through a neighborhood and then rising up towards the mountain-backed skyline of Glendale. A couple days later I returned at sunset and shot dozens of photos from the top of Adams—the street coasting downward in cool blue; the distant city center blazing. Perfect!

One photo in particular speaks to me. I had intended paint this new series on medium/small canvases. But no, this particular image demands much larger. 36 x 48.

I always work on a bunch of paintings at one time. We're like a family taking a road trip—it's an adventure and a journey of discovery. I started Adams late in the day after working on four other paintings. I wanted to stop, but I had to at least sketch the large shapes. Mission accomplished.

I'll check in again next week and share my progress.
June 18th, 2013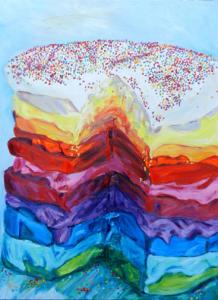 "Create an oil painting for the opening of the new play Hungry Woman at Casa 0101 in Boyle Heights"—that was the invitation from curator Margaret Garcia. Other invited artists chose the Woman part of the title for inspiration. I picked Hungry, and knew that dessert was the direction I had to go in. Paid a visit to several of my favorite bakeries (I know, it's a dirty job…), but nothing inspired me. Then Lynnda, another RockPaperPaint artist, showed me a photo of a rainbow cake. Mmmmm…rich, creamy frosting oozing over multiple layers of buttery cake—all in bright sunset colors! Bingo.

Hungry Woman runs Fridays and Saturdays at 8 pm and Sundays at 5 pm through June 30. I saw the play—loved it! So did the LA Times. Catch the production if you can and enjoy the art exhibit too!
March 15th, 2012
For an upcoming Spring Sale I've been working on seven small oils on panel—painting them all at the same time. I'll work on one for an hour or so and then move on to another. I love working this way. They all inform each other. I make leaps in how clearly I see the scene and how well I can translate my feelings and intentions. Subject? Oceanscapes at sunset. My favorite time of day.


Thursday, March 15—Working on 5 large painting for an exhibit at KGB Gallery, downtown LA opening on Earth Day in April. Just discovered Pebeo oil paints and I'm wild about them! Love the iridescent colors and the creaminess of the texture. The price is right too.